Emevé's Cellar
The production reaches around 60,000 bottles of wine per year.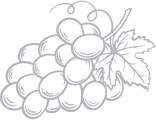 Nowadays the vineyard has a total extension of 18 hectares of crops with different varieties of grapes, such as: Cabernet Sauvignon, Sauvignon Blanc, Cabernet Franc, Tempranillo, Shiraz, Malbec, Merlot, Viognier and Chardonnay. 
Emevé's Cellar
In Emevé the wine is stored in Hungarian, French and American oak barrels, to achieve the right flavor and aroma on each wine. These barrels are imported since the first harvest. Today we have approximately 180 barrels, these barrels are used once and after that new ones are used for the next production. The ones that have already been used are later sold to independent winemakers for the production of homemade wine.